Expressions 2018 Winter Preview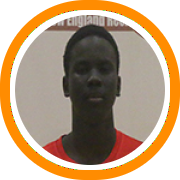 Expressions 8th grade team led by head coach Joe Saunders competes in the MADE Hoops middle school circuit. One of the more talented teams in New England at this level, Expressions has a great combination of size, skill and athleticism. In addition to the Made Hoops circuit, they will be competing in the Basketball Spotlight Class for the Cup on January 26th-27th. Here is a rundown of the members of the Expressions team and what they each bring to the floor.
Toriyan Johnson: A man among boys, Johnson already stands at 6'7 and weighs in at 260 pounds. He is an imposing post player with a soft touch and good footwork.
Max Lockett: Lockett has come up the ranks in the post but at 6'6, he is slowly transitioning to a 3, his natural position. Bull in a china shop type player who plays both ends of the floor very hard.
Jason Asemota: A 6'5 shooting guard, Asemota is far from a finished product as he is all arms and legs and is expected to grow another 3-4 inches. He can put the ball to the deck and plays above the rim. Also a great slasher.
Jeremiah Jenkins: What "JJ" lacks in size he makes up for in heart. The 5'9 point guard has a ton of skill and is very vocal. He runs the show for this expressions team and can make shots at all 3 levels.
Alex Berry: Oozing with potential, Berry is a highflying 6'3 athlete who also possesses a sweet stroke which allows him to stretch the floor. Having grown 2 inches in the last year, Berry looks like he can add a few more in the coming years.
William Lobor: The Rectory School combo forward has come a long way since last March's Junior Elite 75 making him an intriguing long term talent. As of now his game is based out of the midrange.
Kendric Davila-Diaz: The other Junior Elite 75 alumni, Diaz is currently out with an injury but he can really shoot it and is a prototypical three and D wing. Diaz is as fierce a competitor as you'll find as well as being a winner.
Flynt Whitworth: The 5'11 Rectory guard shoots it at a high clip, plays at a great pace and really knows how to play the game.
Troy McCoy: A 6'3 wing, McCoy is tough as nails. He attacks the rim with reckless abandonment as well as having a nice mid range game and 3 point shot.
Jordan McClain: A 6'2 playmaking combo guard that can slash and get out in transition.
*If you would like to have your team previewed, please email Zack at Zack@hooprootz.tv*
---