HoopRootz Player Profile - AB Morales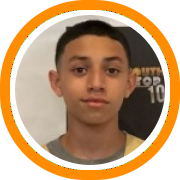 AB Morales is currently a 7th grader at Schagticoke Middle School in New Milford, Connecticut. He plays his AAU basketball for AC Connecticut and has already developed quite an early reputation in the game.
He put up big numbers this past season, not just scoring the ball but impacting the game in various ways, and also gets it done in the classroom with a 3.5 GPA.
Morales was scheduled to start his spring at the HoopRootz Junior Elite 75, but with spring basketball getting shut done he chose to show his game through this HoopRootz Virtual Profile instead.
Player Profile
Hght/Wght: 5'6" and 110 lbs
School: Schagticoke Middle School (New Milford, CT)
2019-20 Stats: 22 points, 9 rebounds, 7 assists, 4 steals
AAU: AC Connecticut
Academics: 3.5 GPA
Recommendation
"What makes AB so unique and separates him from the rest is his relentless work ethic, drive and motor to continue to improve everyday & every rep. He is a true leader on and off the court and an asset to any team or program. His skill set and basketball IQ is very advanced for his age and that's just a testament to the work he puts in."
- Donnell Harvey, Director of AC Connecticut Basketball
Scouting Report
Morales is very advanced with the ball at such an early age. He has a tight handle that allows him to not only change direction but also accelerate at play at a pace that most others his age can't, nevermind while staying under control. He's equally capable of whipping passes off the dribble with his floor vision as this young point guard is loaded with playmaking tools.
Social Media
Video Highlights
---