HoopRootz Player Profile - Jameson Borodawka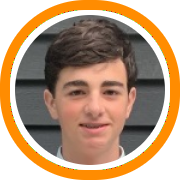 Jameson Borodawka is a talented young guard who grew up in the game of basketball.
A member of the Hillside School's 2021 class (high school class of 2025), he is coming off a big season against elite competition including the likes of Rectory, Fessenden, Fay, along with several JV programs from prominent prep schools.
This spring, he was set to play his grassroots basketball with BABC and was also looking forward to connecting with various prep and private school coaches in hopes of exploring different high school options.
While the grassroots circuit remains on hold because of the coronavirus, Borodawka is still a young player that various coaches from the next level should familiarize themselves with.
Player Profile
Hght/Wght: 5'9" & 125 lbs
School: Hillside School '21
2019-20 Stats: 14ppg, 90% FT, 43% 3pt
Academics: B+/B average; SSAT pending rescheduled dates
Hometown: Tyngsboro, MA
Season Highlights
27 points & 6 threes vs. Proctor Academy JV
20 points & 5 threes vs. Xavierian JV
15 points & 3 threes vs. Putnam Science JV, New Hampton JV, & Lawrence Academy JV
Camps Attended
CP3 National Middle School Combine
NEO-elite Camp
Other Sports
Lacrosse
Baseball
Scouting Report
Borodawka is a smart player, especially at such a young age, who has a good natural feel and understanding of the game. He not only shoots it well but has excellent mechanics and a quick release for this stage. He plays both guards spots, is fundamentally sound, and a gym rat.
Video Highlights
---