Hooprootz Player Spotlight: Jeremiah Jenkins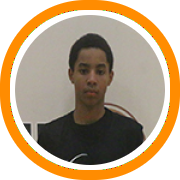 Our latest edition of the Spotlight Series looks at Connecticut native Jeremiah "JJ" Jenkins. Jeremiah is a smooth point guard who burst onto the scene last year at the Junior Elite 75 and we look forward to having him back this year! Registration can be found here.
Player Profile:
Name: Jeremiah Jenkins
Hometown: New Britain, Connecticut
Height: 5'8
Position: Point Guard
AAU: Expressions
Player Interview:
Hooprootz: Where do you go to school?
Jeremiah Jenkins: I currently attend Slade middle school I have attended Slade middle school since the 6th grade I am now in the eighth-grade.
HR: Are you playing for your middle school team?
JJ: I play basketball for my school. Our teams name is the Slade stallions. Our school record is 8-1 and my grades are in the A and B range. I am working towards finishing the school year off strong.
HR: Are you playing for anyone else?
JJ: Yes, I also play for New Britain travel basketball 8th grade team. Our record is currently 10 and 3. I play AAU With Expressions Elite eighth grade team. I like playing with them because we play the top level competition. I have a great support system that prepares me for the higher level competition . I train with one of CT best Danny Lawhorn , whose played oversees. During the week I prepare by going to Yoga, training with my Dad whose the New Britian High School Freshman Coach , and do strength and conditioning with my mother whose a personal trainer and owns her own gym.
HR: Do you play any other sports?
JJ: I used to play football but decided not to this past year so I can focus on basketball. When I did play My position was wide receiver , safety , kick returner and corner , my team New Britian Jr Canes won 3 states and regionals and my7th grade team 2nd in the nation.
HR: Which NBA players do you model your game after and why?
JJ: Two NBA players that I model their games are Kyrie Irving and Allen Iverson because I like to be shifty with the ball like A.I and finish at the basket like Kyrie.
HR: Which part of your game are you trying to improve the most?
JJ: A part of my game that I am working on now is my mid range shot because I want to be able to shoot from all different ranges on the court.
HR: Anything else you would like to share with us?
JJ: I am working on my own brand because I want to be my own boss. I am a young entrepreneur and with the support and people that believe in me I believe that I can make it. Also, I love the Coaching Staff at Expressions they have allowed me to be the leader on the court which I take with great responsibility. They believe in me and what I can bring to the team and that makes me push myself every game.
Check out some highlights of Jeremiah below:
---