#JE75 Connecticut 2024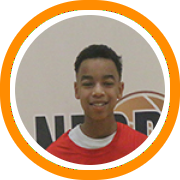 Our latest Junior Elite 75 recap takes us back to Connecticut, where we take a look at the 7th graders who stood out.
Charnez Perkins: Plays good helpside defense, showed good shooting ability from the perimeter.
Jair Mathis: Plays good man to man defense and drives the ball well to the basket to score.
Cameron Perkins: Shoots the ball well from the perimeter and rebounds the ball well.
Bryan Velez: Lefty shooter, undersized but room to grow and uses the dribble well to get by defenders and into the lane.
Jake Paluzzi: Heady point guard who plays with good pace and handles the ball well. Has the ability to finish in the lane over bigger defenders. Impressive defensive fundamentals on and off the ball. Small guard with good range on jumper, A coach's son, Paluzzi plays within himself under control.
Jahkai Veal: Good floor leader who demonstrates good floor vision when passing and keeps things moving smoothly on the floor.
Koran Gilliard: Attacks well off the dribble when attacking the rim or making the proper pass to teammate for easy scores.
Kevin Flowers: Good shooting form and technique-can play either guard position-displayed good ball handling skills and is a good passer.
Antwain Yopp: Good ball handler and uses his dribble to get in the lane and makes the right pass or decision to score.
---