#JE75 Rhode Island 2023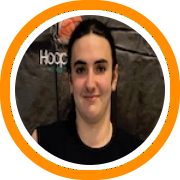 Wyatt Greenberg may have been the only front court prospect from Rhode Island, but he did not dissapoint as he was one of the top preformers on the night. His motor is his calling card as he plays extremely hard and runs the floor well especially for a big man. He is excellent as using his body to carve out space in the paint. In addition to this, he was one of the only guys who dove on the floor for loose balls consistently.
Backcourt recap:
Evenson St. Franc: Extremely high potential, uses his length to create havoc on defense and rebounds at a high rate. Can take the ball the full length of the court and finish over smaller defenders. Has an array of finishes around the rim showing off his eurostep and floaters. Length, athletic, attacks the baskets. Raw skill set but developing jumper. Great on drive and kick, and has a really high motor!
Matt Raffah: Handles the ball well, Good shooting touch from outside.
George Ardrey: High motor!! Attacks basket, strong and can finish with both hands, tough on D. Plays good man to man defense and drives the ball well to the basket.
Azmar Abdullah: Can penetrate well with both hands and possesses good athleticism and a high motor.
Beah Cargoe: Shoots the ball well and drives the ball well to the basket. Plays good man to man defense.
William Outar: Attacks the rim hard and can finish with both hands at the rim.
Marcus Chung: Passes the ball well in half court and showed good drives to score.
Elijah Bynoe: Undersized guard who is quick and can finish in the lane over bigger defenders.
---