Lab Prep Recap: The Bucks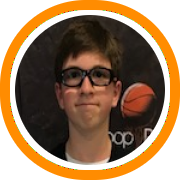 After taking a look at the Raptors earlier this week, we now recap the Bucks!
Chase Mello: Loves the game of basketball & is a dedicated gym rat. Really crafty, smart and clever player. Good at gettting to the rim and vocal defensively. Good communicator and a pleasure to coach. Always makes the right decisions on and off the ball.
Jacob Belsanti: Smart & high IQ hustle player. Can finish with both hands and has been well coached thus far in his career. Very coachable and wants to learn. Loves to complete and always keeps the defense on their toes. Moves well without the ball.
David Ayles: Ayles is a strong ball handler and hustle player. Always diving for loose balls and attacking the offensive and defensive glass. Younger cousin of former NMH standout Matt Dewolf, Ayles shows similar leadership tendencies as he is always setting the tone and leading by example.
Marcus Williams: Brings good energy and sets the tone defensively, never turns the ball over and is contantly making good decisions on both ends. Excellent passer and great at rebounding for transition offense.
Chris Bianco: Jack of all trades type player. Phenominal outside shooter but very crafty into the lane as well. Very coachable, wants to get better and is a confident player.
Tommy Ferdinando: Last one to leave the gym every night, someone who wants it and has the drive to make it. Great shot, best form in the gym.
Dylan Cote: Great rebounder and boxing out. Good size and frame. Always brings energy, effort and hustles!
---