Lab Prep Recap: The Trail Blazers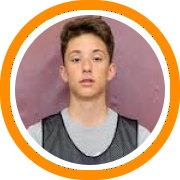 Yesterday we took a look at the Warriors. Today we take a look at the Trail Blazers. We previewed Alex Berry last week, but the rest of the teams recaps can be found below:
Travis Mangual: A crafty ball handler and shot maker, Travis consistently showed the ability to make tough shots over bigger and stronger defenders. He is an excellent finisher with both hands, capable of making open threes and generally a dynamic playmaker for himself and his teammates.
Dante James: An unselfish playmaker who is also a smooth three point shooter and downhill driver, Dante showed toughness defensively guarding bigger players, was a good rebounder and a shifty all around player. Dante James is one to watch in the Hockomock League moving forward!
Jack Bates: Bates doesnt stop talking on defense and does whatever you ask on both ends of the court. One of the hardest working players who just wants to get better, accepts the challenge defensively and takes coaching as well as anyone. Tries to lead and get guys in the right spots and wants to be coached.
Jamari Robinson: Dynamic with the ball and a pass first guy that loves to make plays for his teammates. He is fast in transition and a good 1v1 perimeter defender. Always brings a great attitude and loves to play the game.
Nick Sangermano: Tough kid who gives a ton of effort and energy on both ends of the floor. Has a nose for the ball on the offensive glass. Great teammate and shows maturity beyond his years.Always seems to be in the right place at the right time on both ends of the court.
Patrick Otey: Exceptional teammate, understands spacing and patience more than anybody. Pays within himself, understands what he does well and is a knock down three point shooter. He also knows his limits and doesn't try to do too much.
Luke Azzinaro: Not afraid to take and make big shots (made a triple overtime game winner). Loves to play the game and always has a smile on his face. Total shot maker and ultimate warrior.
---