Lab Prep Recap: The Warriors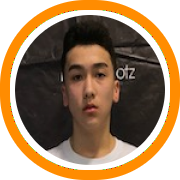 After spending the last few weeks recapping Lab Prep Camp with interviews, we now take a look at the Warriors. We already featured Will Chun, but the fellow Warriors can be found below:
AJ Ancient: The rising 7th grader is all arms and legs and makes an impact on both ends of the floor. He likes to push the ball and play at a high pace, always bringing the energy. Great shot maker in the half court and transition. Wants to facilitate as well and create opportunuties for his teammates.
Justin Dadah Jr: Dadah is a TOUGH player. He likes playing the team game and shines in transition. But make no mistake, Justin can run the offense too. High school ready body and game, will be a welcoming addition as a freshman. Defensively hes sound and been well coached on that end of the floor and is always one step ahead.
Luke Washek: A competitor who wants to get better and do anything possible to help the team win. Bring up the ball, back door cutting, vocal, doing what ever it takes. He is fearless and always will step up and give it his all. Always the first one in the gym and last one to leave, take every aspect of his game, even off the court wellness, seriously.
Lucas Gillis: A typical 3 and D player who is a knock down three point shooter and a pesky defender. He has great form on his jumpshot and made it rain all week. He might be a little undersized, but he is not afraid to face bigger player.
Xavier Joseph: Xavier is a three point shooter with RANGE. He wants to keep improving and get better. He is also willing to step up and take challenges as a defender as he was often tasked with guarding the opposing teams' top players.
Brian Hunt: Hunt is an offensive rebounding machine who is relentless on the glass. A great screen and roll player, he is always boxing out and doesnt take any plays off. A good and willing passer out of the post which adds yet another dimentsion to his rapidly evolving game.
Joey Azzinaro: A post player who can drive both ways, pick and pop or pick and roll. Azzinaro is mobile and a physical defender who does a great job of shutting down screen and rolls and rotating on defense, as camp went on he proved to be a patient offensive player as well.
---