#S16 Guard Standouts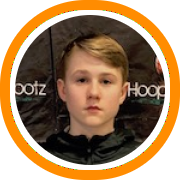 Last week's Super 16 took place at Conn College. 5th, 6th, 7th and 8th grade divisions were all under one roof. Today we will recap the guards while tomorrow we will look back at the wing and forward standouts.
5th
Expression-Elijah McNair- Mcnair is a pure scorer who despite being on the smaller side knows how to use his body to his advantage. He can score out to midrange and works hard on the defensive end to create turnovers and pressure opposing guards.
Storm-Ethan Njenga-A slashing guard, Njenga was unstoppable scoring 20+ point multiple times over the weekend. While his athleticism was eye-catching, what also stood out was his knowledge of when to attack the hoop and when to pass the ball. He has all the tools to perhaps be a special player in the future.
CT Elite G Lucas Pivovar-Pivovar is an athletic guard who knows how to put his speed to use. He is an absolute workhorse with a variety of moves to get to the basket and score, even against bigger opponents.
AKO Kehari Walker-A point guard with the ability to take over games, Walker showed excellent playmaking ability with the ball in his hands. He also is a high-level defender and knows where he needs to be to pick the ball off.
Mount Vernon Elite-William Robinson- An excellent scorer, Robinson has a game IQ and handling ability far beyond his years with a little euro step to the basket as well as the ability to dribble through a sea of defenders. Robinson could definitely be one to watch coming out of a town where basketball is a way of life.
6th
NE Extreme-Jack Koutrobis-A lights out shooter, Koutrobis was a standout on a highly talented NE Extreme team. His ability to make it rain from beyond the arc was complimented by a strong work ethic on the other end.
Cap City-Niko Badoian- An influential piece on the Cap City squad that won a title, Badoian does it all. Offensively he can make pinpoint passes or step out to hit the long-range jumper. More impressive though, was his ability to disrupt passing lanes defensively and make life tough for opposing guards.
Nightmare G Da'Shaun Phillips-Philips is an explosive guard who uses his athleticism to affect the game both inside and out. He can attack the rim and hustle on boards but also showed impressive off-ball movement and knowledge of the game.
7th
CT Roughriders-Shayvon Hutchinson-A shifty primary ball handler who can finish at the rim through contact, Hutchinson displays good off-ball movement and game control with his ability to changes speeds.
MV Rivals- Taurn Sreekanth- While Sreekanth was one of the smaller players on the court, he embodied "heart over height". A speedy point guard with handles to match, Sreekanth ran the show for MV Rivals on offense and showed an ability to pickpockets on the other end.
Berkshire Bulldogs-Isaiah Keefner-Undersized, Keefner was an essential part of a strong Bulldogs squad that made their division final. He knows how to create space for his shot and can knock down the three from almost anywhere on the court. As he is a little undersized, it will be interesting to see how he develops.
8th
Vale-Nasire McDaniels and Tyrese Allick-The guard duo were a defensive force for Vale on the weekend. While both are quick and cerebral offensive players, their work rate on the defensive end shown through and got results in the form of steals and ten-second
WrightWay Skills-Hakeem Daphins-A well-built guard, Daphins can shoot the three, attack the rim or move the ball around the perimeter. He showed good lateral quickness defensively which can be developed upon in the future making him an intriguing prospect.
Team Sims- Daejon Gibson- Able to scores in bunches, Gibson was able to score in the paint even with bigger defenders against him as well as hit the three ball. Most impressive was his court vision which helped his team dominate in transition.
HHBC Jake Paluzzi- A lights out knockdown shooter, Paluzzi has a shot form that is near perfect. His release is quick and he can get it off even with defenders closing out. It will be interesting to watch how he expands his game at the high school level.
Hoop Haven G Thomas Berkhart- A smaller guard with a sweet stroke, Burkhart showed good range from around the arc. Along with his offensive prowess, Berkhart is a deceptively tight on-ball defender who can make life difficult for opposing guards.
CT Elite G Ben Peatrie-An absolute workhorse, Peatrie knows exactly where to be on the floor to help his team. He is always in a position to clean up broken plays and turn mistakes into transition baskets and steals
Rose City Intensity G Lebron Maurice- A standout on a loaded RCI team, Maurice was able to affect the game every time he touched the ball. He has innate court vision and IQ paired along with an ability to score at all three levels.
---