HoopRootz Player Profile - Deondrae Farmer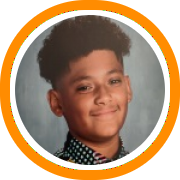 Rising 8th grader Deondrae Farmer has already been playing high-level basketball for several years.
His achievements have been recognized by a variety of events and oulets including Hoop Scoop Oline, Phenom Camp, and cthooprecruits, while his plans for high school are still undecided with numerous suitors still on the table.
Most importantly, there has been a clear progression in his game over the yeaers as the video highlights below reflect.
Player Profile
Height: 5'6"
Position: Point Guard
Hometown: Danbury, CT
Class: Class of 2025
Recent Stats: 18pts (season high 35pts, 10.7reb, 6.8asts, 2.9stl
Academics: 3.5 GPA
Recommendations
"I would like people to know that I am a true, all around basketball player. I can pick up a defense or a play very quickly. I can read the court and tell my teammates where to go on the floor. I know all five positions and can lead my team well because of that. In addition, I can shoot very well, play great defense, and handle the ball very well - even under pressure. I have a lot of potential as a player as well. I am a great ball player who will only get better becuase of how hard I work and how bad I want it."
- Coach James McCray
Scouting Report
Farmer is a lefty guard with a strong body. While he can overpower most guards his age and size, he's also talented with the ball in his hands. His left-to-right cross is lethal far beyond his years but he's far from one dimensional off the bounce. He can shoot off the dribble, navigate the lane with fancy footwork, and has also shown floor vision and passing ability. Far more important than any early "ranking" or "rating" at this stage, Farmer seems to love to play and is getting better at every stage.
Video Highlights
---