Hooprootz Player Spotlight: Bryce Duarte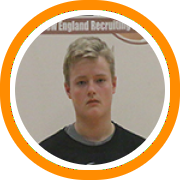 We are excited to welcome Maine native Bryce Duarte to the Junior Elite 75 on March 15th. Bryce played this winter with the Blue Wave team from Maine and ultimately was one of the top big men on the circuit. In fact his coach said " I havent seen a better true 8th grade big men than Bryce."
Player Profile:
Name: Bryce Duarte
Hometown: Windsor, maine
Height: 6'3
Position: Center/ Forward
AAU: Blue Wave
Player Interview:
Hooprootz: How is 8th grade going so far?
Bryce Duarte: Great! My grades are the highest they have been in middle school
HR: Are you playing for your middle school team?
BD: Yes. Windham middle school
HR: Are you playing for anyone else?
BD: Yes, Blue Wave with coach Robert Pilsbury
HR: Do you play any other sports?
BD: Yes, I also play Football.
---