#JE75 Connecticut 2023 Backcourt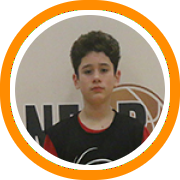 Our latest recap takes a look at the 8th grade guards who stood out.
Jeremiah Jenkins: One of the best prospects from Friday night. Lighting quick and has a smooth handle. Can get to the rim or create a fast break whenever he wants to. Also showed an ability to hit the 3 and make plays for his teammates. Handles well with good court vision and can shoot it off the dribble.
Jarel Delgado: Skilled scorer who uses his stocky frame to create space from defenders. Can score in high volumes once he gets hot. Tough and physical and can really finish around the rim.
Travis Mangual Jr: Another volume scorer who can does a good job of creating shots for himself and moving without the ball. Can shoot from deep and mid range.
Andrew Mayock: One of the best shooters in the gym. Hit shots from 3 consistently even with little space. Pure jumper with serious range, good length and handle
Ponce James: A gifted passer who made a ton of highlight plays setting up his teammates for easy looks. Also showed off his tight handle and ability to hit shots from 3. Drives the ball well to the basket in transition and plays good team defense.
Tyson Mobley: One of the most impressive performers from Friday night. Plays hard on both ends of the floor and uses his physical build to get to the rim whenever he wants. Rebounds extremely well for a guard and defends at a high level. High potential. Strong young guard with good size, height, handle and finish.
Brandon Nagel: Drives the ball well to score in the half court. Rebounds the ball well, plays good man to man defense.
Jaiden Lopez: Did a really good job of beating defenders off the dribble.
Angel Canuelas: Passed the ball well and is always looking to set up teammates for easy buckets.
Ryan Skoronski: Plays with really good poise and feel for the game.
Cooper Niemenen: Good sized guard with good court vision.
---