#JE75 Mass 2023 Guards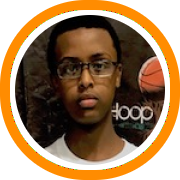 In the deepest group, we now take a look at the 8th grade guards who caught our eye.
Best of the Bunch:
William Watson: Skilled guard with good handle and playmaking ability. Showed off a nice pull up jump shot.
Abdur-Rahman De Leon: At 6'3, De Leon is a big guard who handles the ball with ease and controls the tempo of the game. Uses his size and strength to get to the rim and score over smaller defenders. High potential. Good rebounder and runs the floor well. Good athlete with a nice pullup game and a high motor.
Teagan Terry: Good size and can score in multiple ways. Aggressive attacking the hoop and showed an ability to effectively shoot the 3. Good size and handle for a young guard, very smooth jump shot to 3.
Izayah Fisher: Has a long, lanky frame with a nice jump shot from mid range and 3pt range. Will continue to develop as he grows into his body. Skinny and young but long and smooth with a nice rhythm, handle and jumper.
Jaaden Simpkins: Has good size for a guard his age. Long and athletic playmaker with a high school ready body. Got to the rim at will and finished well with both hands.
Chris Clarke: Long and athletic guard who has a nice feel for the game with good potential. Scores well in transition and has good ball handling. Active on the defensive end.
William Chun: Extremely athletic and versatile for his age. Can play big or small and is a presence on the defensive end. Athletic and long, runs the floor well.
Jordan Mcclain: Big (6'3), athletic lefty who has good potential. Has an effective jump shot from mid range and rebounds well. Long bouncy wing, good handler and good decision making.
Marc Garraud: Volume scorer with a tight handle that allows him to create looks for himself. Likes to run in transition and make plays but also showed his ability to create in the half court. Capable 3pt shooter. Rebounds well and passes well, has good shooting touch from outside.
Darmani Santiago: Good shooting touch in the lane for a scorer. Shot the ball well from the outside, but also Great on help D, good footwork. Attack with handles and a high motor
Other Names to Know:
Jack Scaro: Has a high level of IQ for his age and strong fundamentals which should translate well to high school.
Michael O'Brien: Can really knock it down from the outside and is an excellent spot up shooter.
Dylan Cote: good motor and an athlete who can finish with both hands. Also a good passer with great court vision and a high IQ.
Max Person: Rebounds the ball well and showed good dribble to score in the post.
Jaheil Jose: Plays the passing lanes well for steal and score. Also talks on defense.
Sawyer Fox: Moves the ball well off the dribble to teammates for baskets and plays good team defense.
Braeden Shrewsberry: Solid point guard who is crafty with his handles. Likes to get in the lane and create for others but can also finish around the rim effectively.
Jacob Barnett: Passes the ball well and drives the ball to the basket to score. Moves well without the ball.
Jack Solomon: Drives well to the basket in half court and has a good shot selection and touch on his shot.
Ryan McCarthy: Moved well without the ball to score. Passes the ball well from off the dribble.
AJ Miles: Passes the ball well and moves well without the ball. Played good defense.
Jake Lemelman: Plays well in transition. Showed nice touch scoring in the paint. Defends well in transition, had a few steals.
CJ Hutchinson: Guard with a high motor who loves attacking in transition. Put pressure on the defense all night.
Jack Bates: Tallks well on defense and handles the ball well against pressure. Passes the ball well.
Dre Espaillat: Crafty guard with a good handle. Handles the ball well to drive to the basket and score. Plays good team defense.
Leon Correia: Good motor and really rebounds at a high clip, especially for a guard.
Sean Njenga: plays good man to man defense, runs the floor well to score. Showed good shooting touch from the perimeter
Andrew Cerullo: High level shooter off the catch. Does a good job moving without the ball to get himself open looks. Can really shoot it off the catch and dribble. First came onto our radar last year at the Adidas Select Middle School series.
Daejon Gibson: Passes the ball well and plays good defense. Drives the ball to the basket well in transition.
Trey Merritt: Good shooter off the catch and off the bounce. Agressive on both ends of the floor, looking for his shot whenever he can while also trying to create steals. Knockdown shooter who can deliver good passes with finish with both hands. All night Merritt continued to make tough plays.
De'jour Farquharson - 5'9, Chestnut, 8th: Good set shot and mechanics. Athletic and raw with skills but offensively minded as of now.
Jose Rogerio Padilla: Shoots the ball well from outside, moves well to get the ball to score.
Shawn Kaigai: Great athleticism, attacks the basket well, finishes with both hands and a very good motor. Also tough on defense.
Nick Petronio: Good rebounder, drives the ball well to the basket to score or pass. Runs the floor well in transition.
Dontay Santiago: Plays good transition defense and has good ball handling skills. Rebounds the ball well.
Darrius Merricks: High motor and a good rebounder. Also a good athlete and very strong.
Tristan Rodriguez: Tough physical player with good ball handling skills, can get to the basket; can rebound and doesn't make a lot of mistakes
Aiden Osman: good ball handling skills-very poised and unrattled on the floor-makes great passes and did a really good job of attacking the defense
Allen Paniagua: Very athletic, skilled ball handler, makes good decisions, makes everything easy for teammates.
Tareeq Evans: Moves well in half court to score and has a good shooting touch from outside
---