#JE75 Massachusetts 2026 Recap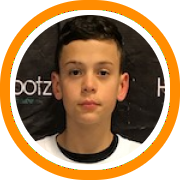 Our final recap takes a look at the class of 2026 prospects from Massachusetts:
Antonio Pemberton: Good shooting from the outside and plays good team defense.
Ladainian Rodrigues: Drives the ball well to the basket. Plays good man to man defense.
Christian Dalton: Small guard who did a really good job of coming off screens and knocking down jump shots-shot the ball well from deep
Cesar Miranda: Passes very well with good court vision for his age-good feel for the game, a really smart PG. Good decision maker.
Patrick Otey: Dribbles well with both hands and puts a lot of pressure on the ball with his defense. Moves feet very well, good athlete with great lateral quickness and hands.
Ethan Mjenga: Good ball handling skills-uses the dribble well to get in the lane or set up his pull up jump shot.
Nicholas Shrewsberry: Loves to attack his defender off the dribble and get into the lane for easy baskets-advanced ball handler for his age.
---