#JE75 - Top 5th and 6th Graders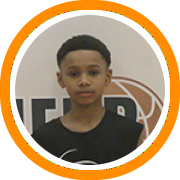 Best of the bunch:
James Jones: Jones showed how well he has been coached to this point in his very young basketball journey. He had a good understanding of where to be off the ball and did a great job following his shot and crashing the offensive glass. Though only a 5th grader, Jones has been taught well and as he continues to grow you can count on this guard having good habits out on the floor.
Hayden Maynard: Maynard showed his ability to finish around the rim and play hard on the defensive end. Coaches would like to see him run up and down the floor harder and more consistently.
Andrew Alekseenko: Andrew Alekseenko showed tremendous basketball I.Q. as he naturally hedged on ball screens when defending the screener on defense. He can shoot it and handle it on the offensive end as well. Very impressive as a young 6th grader when you combine his young skill set with his knowledge of the game.
Danny Adams: Adams showed the coaches in attendance his athletic ability to run the floor and be an energy player on the defensive end. He has a solid foundation of offensive skills for a 6th grader as well.
Glenn Kule: Kule is a gritty 5'2" shooting guard that plays both sides of the floor extremely hard. His tenacious on ball defense stood out on Sunday, as it seemed as though he took it as a challenge to not let his man score on him every time downt the floor. His I.Q. on the offensive end was on display as well. It always seemed as though he was in the right spots on the perimeter, ready to catch and shoot it or make the extra pass to a teammate.
Lane Joseph: Lane Joseph is a team player. The entire day he was constantly looking for his teammates and played great defense individually and as a team. The 5'3" 6th grader has great ceiling given his good foundation and discipline as a player on both sides of the court.
Elijah Lewis: Lewis showcased his ability to handle the basketball both in the full court and half court settings. Whether it was under duress or freely orchestrating the break, his handle ability combined with his athleticism definitely impressed during the course of the showcase.
Isaiah Langham: Langham showed great moves to the basket on Sunday on the offensive end. His awareness on the defensive end was impressive as well, constantly communicating with his teammates which is an impressive trait at a young age.
Paris Moses: Paris who is only a 6th grader showed the ability to play with kids one and two years older than him on Sunday. His has a young foundation to be a good all around player and will continue to develop his game as he grows.
Best of the rest:
Donald Bryant: Good defender and showed that he can pass the ball well to the open man.
Jahkai Veal: The CT native was another guard who showed a high IQ.
Lochlan Kirk-Elliot: Active player, good team player and showed that he can drive the ball to the basket.
Leondre Sanchez: The 6th grader is a hard-worker and very productive player under the basket. He showed an impressive ability to score over top of bigger defenders inside and really stood out with his pinpoint long outlet passes.
Alexander Wilkins: The 5'0 comb guard out of Pierce Middle School came to play impressing with his motor and willingness to not back down.
Remington Rokoszewski: Rokoszewski did a great job on the offensive and defensive glass by crashing the boards. His energy seemed palpable to his teammates which is a unique trait to have.
---