#JE75 - Top Combo Guards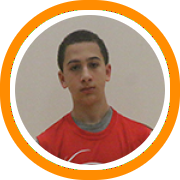 Best of the bunch:
Ta'Quan Williams: Ta'Quan displayed his ability to get out on the break exceptionally well during the Junior Elite 75 showcase, his athleticism and length will serve him wonders in the future as he continues to develop his half court game.
Luke McNabb: McNabb displayed a ton of potential on both sides of the floor, he has a great understanding for the game at a young age, but needs to work a bit on the fundamentals of the game on both sides of the floor.
Gavin Carter: Gavin Carter displayed an all around offensive game at the Junior Elite 75 showcase on Sunday. His ability to get to the rim, hit the mid range and three ball, and his vision when penetrating into the paint was impressive. Though he needs to work on his footwork defensively and sure up his offensive footwork a bit as well, he has the competitive drive and work ethic to make that more than possible.
Cameron Perkins: Perkins showed good discipline in never watching the ball on offense when it was not in his hands. He showed good I.Q. in showing an understanding for spacing and positioning
Nick Langella: The Maine native had a solid showing on Sunday showing great understanding of offensive spacing and creating shots for teammates. He was a menace attacking the paint in the half court and ran the floor in transition extremely well. The 5'11" guard will continue to work on his handle and develop his body for the next level.
Antonio DeMoura: Great team player and showed that he has good passing skills and can shoot the ball from the perimeter well. Defensively he showed an understanding of help side defense and played solid one on one defense as well.
Jadon Wolfe: Wolfe showed the ability to orchestrate in the open court exceptionally well during the full court game sessions at the Junior Elite 75 showcase. Always looking to push the ball in transition, Wolfe showed he can both find the open teammate and create for himself in the open court as well.
Jason Antonellis: An effective guard with a variety of positive attributes, Antonellis has a number of potential weapons as he continues to grow into his body. First and foremost, he plays hard and approaches the game with the right attitude. His handle and shooting stroke are both good and he has some natural craftiness about him too.
Shane Yorkey: Shane displayed great potential as a high energy player and a defensive stopper at the showcase. Though his offensive skills need some development, he has a great foundation defensively with very good lateral quickness and overall awareness as a team defender as well.
Brady McGowan: Good closeouts and hands on defense. Good at boxing out. Good at spacing and pushing the ball using passes up the floor. McGowan truly showed a solid all around game both skill wise and intellectually as it was clear he has a solid foundation of knowledge for the game as well.
Jordan Clayton: Clayton displayed his ability to be a great energy and defensive player. His offensive skills are sound as well, as he handles the ball well and has a solid foundation in his jumper. Further development is needed on his jump shot mechanics but the 8th graders competitive and hardworking nature will help him along with his development.
Zoel Diaz: As a young guard, Diaz displayed a lot of potential as both an offensive and defensive player. He has a very capable jumpshot, but needs to work on his footwork coming into his shot, as well as his awareness on the defensive end. Still, as just a 7th grader, Diaz has time to further develop and see his potential.
Antwonne Graham: Strong moves to basket in the half court and on the break. This slashing guard could grow to have the athleticism to make an impact on the game even when he if off the ball on defense and offense.
Charnez Perkins: Super athletic, blocked a ton of shots and had great passes on the fast break. Has a nose for the ball defensively, and is a very good overall energy player. Coaches will be able to found on him bringing his work ethic every day to the court.
Dante Hector: This youngster had jet light quickness, even when facing older and bigger competition. He has wheels for days off the bounce, gets in the paint on demand, and finishes deceptively well for his size too.
Bryan Aweh-Kisob: Offensively, his discipline really stood out as he moved the ball and cut away from it. He is a scoring threat from outside as well, with solid shot mechanics.. He showed the ability to slash across the lane creating opportunities for himself and his teammates.
Ethan Crawford: Showed good shooting ability and a good defender off and on the ball. Ethan has as a strong motor and a competitive nature coaches look for. Having some of these traits is a very good thing for such a young player. Given his solid foundation, it will be exciting to see how he develops in the future.
David Barnica: David is a tenacious on ball defender and also has great understanding of standard help side principles. He has workable jumpshot and finishes well around the rim. Overall, this youngster has a very good all around basketball I.Q. and a skill set that should pan him out for a bright future.
Daejon Gibson: Gibson displayed his ability to handle the ball under pressure and in traffic. Coaches were impressed with his ability to finish around the rim showing good touch from all different angles around the rim. He has a nice, smooth jumper too with solid mechanics. He needs to move more without the ball because he's athletic enough where he can make plays off the ball as well.
Josh Reed: Reed has very good form on his jumper and has a nice arch to his shot as well. His defense was very good off the ball, and he showed solid lateral quickness on the ball as well. As he continues to develop and grow he will need to focus on cleaning up the defensive glass and blocking out other guards that crash the boards.
Jeymar Fernandez-Guirado: Jeymar showed great shot selection in the Junior E75 showcase which is sometimes difficult to do given other players in some showcases tend to do things outside of what they are capable of and force shots. Fernandez-Guirado was the exact opposite, he showed tremendous I.Q. out on the court and seemed very coachable as well.
Dion Byrd: Byrd has the ability to be a fine offensive player. His defense and work ethic is already there, showing the ability to help his teammates on the weak side and defend his man effectively. Offensively he has a workable jump shot and can take it hard to the rim. He needs to work on his body movement off the ball.
Anthony Troncellito: Troncellito was impressive in the way he slashed to the rim and across the lane off the ball on the offensive end. A nice young athlete, Anthony impressed in the transition game as well both going back on defense and breaking out for offensive opportunities. He has the potential to grow into a very good all around high school player one day.
Mike Olivencia Jr: Olivencia Jr. displayed heady play on both the offensive and defensive side of the floor. He seemed to rely on his jumpshot a lot, but has the athletic ability to break down defenses and get to the rim as well.
Jaheil Jose: Jose showed his lateral quickness at the Junior E75 showcase last week. His competitive nature and solid skill set will be something to keep an eye on as Jaheil continues to get older.
Jaeden Greenleaf: Jaeden showed a very solid foundation with his skill combined with good basketball IQ for an 8th grader. He always looked to make the extra pass to a teammate, and was a force on the perimeter defensively. He definitely will be a player to keep an eye on as he develops his game and his body.
Lucas Dillworth: Dillworth works extremely hard on the defensive end and is a very unselfish player offensively. He needs to continue to develop his offensive skill set but through his work ethic and team first mentality, he will make a fine addition to a high school roster in two years.
Jason James: Jason James had a very good showing during the Junior Elite 75 showcase. His finishing ability definitely stood out, and his perimeter on ball defense was impressive as well. He needs to work a bit on his shot mechanics, but he flashed the ability to orchestrate the fast break and run up the court in transition without the ball as well.
Malachi Bryant: Bryant displayed a strong work ethic and hustle while rim running and cleaning up the defensive glass on Sunday. He has the ability to really develop as a great athlete.
Jaelen Jackson: Jaelen, a native of Lincoln ME is a young 7th grader who showed great potential on Sunday. He plays both ends of the court very hard and as he continues to grow physically and expand his game offensively, he will develop into a fine player in the future.
Cushan Perkins: Perkins displayed a strong work ethic throughout the entire day, from the drill sessions to full court games. His skills (specifically his slashing ability and jumper) coupled with his work ethic will serve him wonders as he continues to grow physically and develop his body.
Evan Hadley: Coaches were very impressed with Hadleys work on the defensive end. He made countless plays as he always seemed to be in the right position on the defensive end of the floor. Offensively he displayed a good skill set, he has a nice jumper with cuts well without the basketball.
Jordan McCain: An 8th grader out of Boston Prep, McClain is a tenacious defender who can pressure the ball far away from the basket. He has a great motor and crashes the boards very well on the offensive side of the floor.
Diego Aviles: Aviles displayed very good scoring ability on the offensive side of the floor. He finishes well around the rim and showed the ability to hit some tough contested jumpers. He is a long athlete with big strides up and down the floor. He will definately be a player to keep an eye on as he continues to develop his skills and his body.
Other names to know:
Thomas Smalls: athletic wing type of player showed good defensive presence on the floor. His ability to fill the lanes in transition and get layups under pressure was on display as well.
William Mannette: Hard worker and good team player. He showed the ability to shoot ball from the perimeter well and competed hard on the defensive end.
Elijah Rodriguez: Good passer has the ability to find open guys on offense.
Colin Vigeant: His speed and ball handling allow him to get virtually anywhere he wants on the floor. To take his game to the next level, Vigeant needs to learn to picks his spots and change up his speeds
Jayden Williams: Coaches were impressed with his rebounding ability for a guard and his vision on the offensive end as well.
Jayshean Williams: Good ball handler, shows the he can direct his teammates to run the floor.
Isaac Chiu: The 5'6 guard showed great ability getting into the lane for tough jumpers.
Abdur-Rahman De Leon: The big guard showed a lot of natural playmaking abilities offensively. Defensively he used his length and size to frustrate the opposition all afternoon.
Hayden Christner: Good ball handler and showed good passing skills in both the transition game and in the half court.
Ethan-Andrew Falconer: He has solid vision as well as good ball handling ability.
Evan Millerick: Defensively he showed a good understanding of off the ball concepts and was solid on the ball as well.
Desmond Bellot Jr: Bellot Jr. showcased some nice moves and finishes around the basket both in the half and full court. His energy and motor was impressive as well.
---