Lab Prep Recap: Alex Berry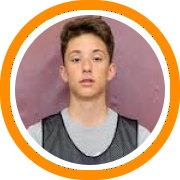 We continue our Lab Prep Camp recaps with 2024 guard Alex Berry. Berry is a solid leader with a very versatile game. He is well ahead of his years in terms of work ethic, basketball iq, mental makeup and has a consistent will to get better. Alex takes coaching well and continues to be one of the most coachable kids in the field. Reclassifying to 2024, Berry should be one to watch moving forward!
We also sat down with Alex last week:
Hooprootz: What are you looking for in a program at the next level?
Alex Berry: Get me exposure and develope my game at the same time. Be honest with me, tell me the truth, and help me get better. 
HR: MJ vs. Lebron Why?
AB: MJ 100%. MJ was just a killer, always showed up. My dad always told he couldnt remember a game where Michael Jordan didnt show up and bring his A game.
HR: What skills do you bring to the table that add to your team the most?
AB: Leadership, decision making, helping guys get through, pumping up pregame and motivating them. Especially my perimeter shot making.
HR: You're heading to Rectory next year and reclassifying into 2024, what went into that decision?
AB: More of a school decision than basketball. In order to take my game to the next level, most efficent way to get ready for prep school was head to junior boarding school. Get used to a boarding school setting.
HR: If you didnt play basketball what sport would you play?
AB: Tough answer, I think I would be a good wide reciever with my leaping ability and toughness. If basketball wasnt in the picture, i would focus on hurdles, long jump and a few other track event
HR: If there's three words someone would use to describe your game?
AB: Tough, skilled, athletic
---