Lab Prep Recap: Caleb Middleton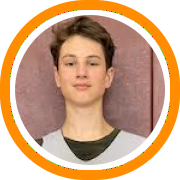 After featuring some of the guards and wings, we now take a look at the tallest player in the field, Caleb Middleton. Middleton can step out and shoot it at all three levels and has great size at 6'5+. He didnt go for ball fakes, blocked shots and rebounded well. Made some nices passes out of the high post and has a tight handle on the ball.
We were able to sit down and talk Caleb at camp and learn a little more about him and his game!
Hooprootz: What is your favorite part about camp?
Caleb Middleton: A lot of new people and concepts I was not aware about before, I really learned a lot of new things here.
HR: What motivates you to be an elite prospect?
CM: It motivates me to know that im capable to do it so why not do something i love and be great at it?
HR: What other sports do you play?
CM: I currently play Rugby and Football
HR: What is something about your game you want to prove you can do?
CM: I want to improve my toughness, I want to become stronger as I head into high school so I can be as successful as possible.
---