Lab Prep Recap: Will Chun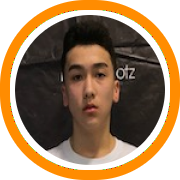 Out next Lab Prep recap looks at Will Chun, Chun was a breakout player back in March at the Junior Elite 75 showcase and continued his strong play all week long at camp. Chun is a lengthy ball handler who can create for himself or others. He is reletively new to basketball after growing up as a football player. He is making strides on both ends of the floor as well. He is an ultimate competitor who hates to lose and wants to win every drill. Will helped set the tone on both ends of the floor as well.
We sat down with Will to get to know a little more about him:
Hooprootz: What does playing for Mass Rivals mean to you?
Will Chun: Hardwork and dedication, a responbility to show up everyday and give it everything I can. Not cheat myself or my teammates. I owe it to them and myself to work my hardest
HR: If theres one thing you want people to say about you as a player after seeing you what would it be?
WC: Defensive threat who carries the energy from the defensive side to the offensive side.
HR: What skills have you added to your game in the past year?
WC: Developing my off hand and being able to support myself and my teammates
HR: What older Mass Rivals player has been the biggest influence on you?
WC: Carlos Nunez, he always has the energy, hes a sharp shooter who kills it on the defensive glass.
HR: What would you like to study in college?
WC: Political science, I want to be someone who can use basketball as a tool to get to the next level.
HR: Favorite part about camp:
WC: Learning new concepts and refining my basic skills.
---