Middlesex Magic 8th Grade Team Preview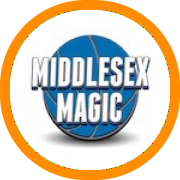 In typical fashion, this Middlesex Magic 8th grade team is a true 8th grade team, not one of the kids has reclassified. This is also their 3rd year playing together. This team is fundamentally sound and well coached. Arlington Catholic's Ryan Svendsen might be the most experienced after playing varsity as an 8th grader this past season. The 6 foot comber guard is a slasher with excellent footwork and is good around the hoop as well. Jacob Belasanti will head to Nashoba Regional next year. Only standing about 5'9 right now, Belasanti is an electric scorer with a strong body and has a strong handle on the ball.
Lexington's CJ Cox is the teams best defender. Very vocal on the defensive end. He is also deceptively athletic and expect him to hit a big growth spurt soon. Forward Aidan Benkkhuis is the glue guy on the team. A jack of all trades, master of none type of player who is tough as nails and does all the little things asked of him. Collin Galloway is a wing forward who is active on both ends of the floor, a solid all around athlete, he takes a ton of charges as well.
Will Hunt and Brendan Wilder are both the sons of coaches, Wilder is a point guard who is fundamentally sound and a team first player. Hunt is the son of the former Bentley Womens associate head coach. He has a high IQ and moves well within the system and is a solid all around player.
Jesse Doherty also stars on the gridiron, has a big strong football body. Can defend the 5 due to his mentality and football approach to the game, but projects as a face up 4. The final member of the team is Medford guard Sam Orcutt. Once he gets his feet set, he is almost automatic from 3, this is also his 6th year playing in the Middlesex Magic program, Orcutt will head to Medford high school next year.
---